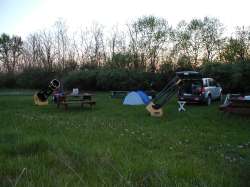 The management of American Electric Power has graciously made land available to the Columbus Astronomical Society for astronomical use. A private access road leads directly to the observing area. The 35-acre site is located within AEP's Recreation Land in Morgan County. From downtown Columbus, it is about a 1 hour 45 minute drive to the observing site.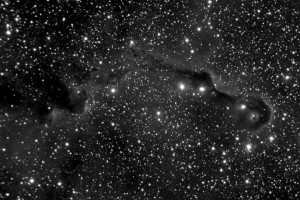 Dark skies are typical for Grieser Field, with only three small "light domes" on the horizon from Zanesville (northwest; 30 miles away), Marietta (south-southeast; 35 miles away), and the small town of McConnelsville (south-southwest; about 7 miles away).
Overnight observing is permitted at the site. You will need to bring your own camping gear, food, power source, and other provisions for the night. There are no restrooms or potable water sources at the site. The nearest "civilization" will be in McConnelsville where there are grocery stores and some fast food establishments. You can also conveniently pick up supplies in Zanesville or some of the other small towns on your way.
Permit Requirements
Please do not use the site without a permit. FREE lifetime permits can be obtained from the McConnelsville AEP office. You can write for an application at: American Electric Power, P.O. Box 328, McConnelsville, Ohio 43756. Or you can call AEP at (740)-962-4525 and ask for the Recreation and Wildlife Department. Additionally, you can apply for the permit online at the ReCreation Lands website. This permit is also good for the various public campgrounds and hiking areas with the Recreation Lands. This is a lifetime permit and never needs to be renewed.
Rules-of-Use
AEP has granted CAS members these special use rights. In exchange, we need to abide by the following simple rules and courtesies:
All visitors must have a permit and carry it with them at all times (see above for details on obtaining the permit).
The site is to be only used by CAS members and for astronomical purposes.
Do not drive or park beyond the roads posted with the "No Vehicles Beyond This Point" signs.
Alcoholic beverages are not permitted.
Target practice and shooting of firearms is not permitted.
Cutting down or damaging trees and shrubs is prohibited.
Please clean up after yourself.
Driving directions
From Columbus: Take I-70 East to Zanesville. Exit to Route 60 South. Follow Route 60 to Gaysport, then turn left onto Route 376. Continue on Route 376 (being sure to take the right turn at Ruraldale to stay on Route 376) to the Morgan County Line. Just to the left about a tenth of a mile past the Morgan County line sign, take Smith Road (only goes to the left). Follow Smith Road past the closed "old" entrance to TR 952 (Lawrence Road) for approximately ¾ mile where you'll see the new portion of TR 952 exiting on your right. Turn right onto TR 952 and follow it for about 1.5 miles where you'll see the "CAS Site" sign at the entrance to Grieser Field on your left.
Elevation 1044 ft.
Clear Sky Clock for Grieser Field