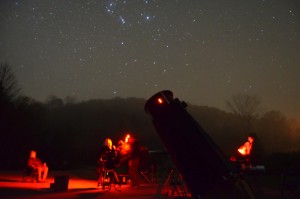 Conkles Hollow is a small, secluded, nature preserve area in the Hocking Hills State Park. It is a 1 to 1-1/2 drive from most parts of Columbus. Conkles Hollow is a true, dark-sky, observing site suitable for deep sky observing and astrophotography. You can set your telescope up on the large, grassy field area next to the parking area. This area is flat and mowed and makes an almost ideal viewing area.
Restrooms, picnic tables, and barbecue grills are on the premises. There is also a convenient country store about a mile away. If a park ranger drops by, be friendly and offer them a peek through your scope! Happy viewing!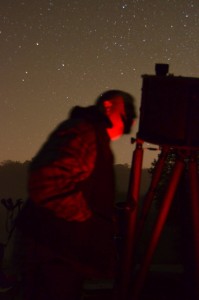 Rules of Use
Due to the special needs of our club, the ODNR has granted the CAS a special-use permit for Conkles Hollow. The terms of this agreement require that we abide by the following rules;
1. Do Not Observe Without Calling In Your Permit. If the park rangers have not been notified of your observing plans, you run the risk of being ejected from the park. You could also jeopardize the club's special arrangement. See below for instructions on how to contact the Hocking Hills park management.
2. CAS Members Only. Conkles Hollow closes after dark and is patrolled by rangers. Only CAS members who have called in their permit can stay after dark.
3. Use the Parking Lot and Grass Field Areas Only. The terrain beyond the mowed grass lot of the parking lot can be quite rugged. It is important to stay confined to the parking lot and grass field areas of Conkles Hollow. This is a very sensitive issue with the rangers and park personnel — please abide by this rule and urge others to do likewise.
4. Leave By 2:00 AM. Our permit allows us use of the park until 2:00 AM. Please keep track of the time and plan your observing session accordingly. You can maximize your observing time by arriving and setting up your equipment in the daylight hours.
How to Reserve Conkles Hollow For Your Use
Our special permit with the Ohio Department of Natural Resources (ODNR) and Hocking Hills park management requires that we notify the park personnel in advance of our observing intentions. This is for our own safety and makes the ranger's job much easier. If you would like to observe at the Conkles Hollow site, contact the park office at (740)-385-6841, inform them that you are a CAS member and will be observing from Conkles Hollow that evening. They would also like to know the approximate number in your party. Alternately, you can fax them at (614)-385-8166. The park requests that we call it in 48 hours prior to observing, but no later than 4:00 PM the same day.
Please do not use Conkles Hollow without proper authorization. Doing so will damage the club's relationship with the ODNR. You may also be ejected from the park.
Clear Sky Clock for Hocking Hills State Park