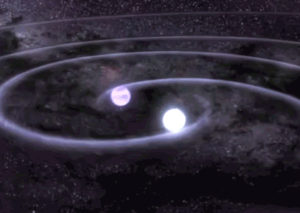 Join us November 10th to hear Don Stevens, Perkins Observatory Director, and long time CAS member, presents: General Relativity and Gravitational Waves: Ripples in the Structure of Reality
Much mythology and misunderstanding surrounds Einstein and his greatest works, the Special and General Theories of Relativity. Though Einstein is no doubt a genius, his theories did not arise from a vacuum. They are built upon the work of other geniuses. These other great physicists and mathematicians are little acknowledged, but without their work and insight Einstein may have been a little remarked patent clerk for the rest of his life. Einstein, like Newton, stood on the shoulders of giants. We'll look at Einsteins' theories in a historical context and one of the most profound and recent confirmations of his General Theory – gravitational waves.
Refreshments will be available.  We hope you can come and join us!